in My Medical Student Life
By Nabeel Ibrahim
Published on 26/11/2019
I'm SHINAH SAEED and this is My Medical Student Life
27-year-old Shinah Saeed is in her last year of Medical school. She completed her high school in GN Atoll Education Center and won first place in the National top 10. She also won the President's scholarship to complete her bachelor's degree abroad. At IMU, Shinah has been involved in numerous activities and organizations such as the Asian Medical Students Association, Malaysian World Health Assembly 2017 and Athena- Obstetrics & Gynaecology and Women Empowerment Society of IMU Clinical School. It was a pleasure for me to interview Shinah for My Medical Student Life.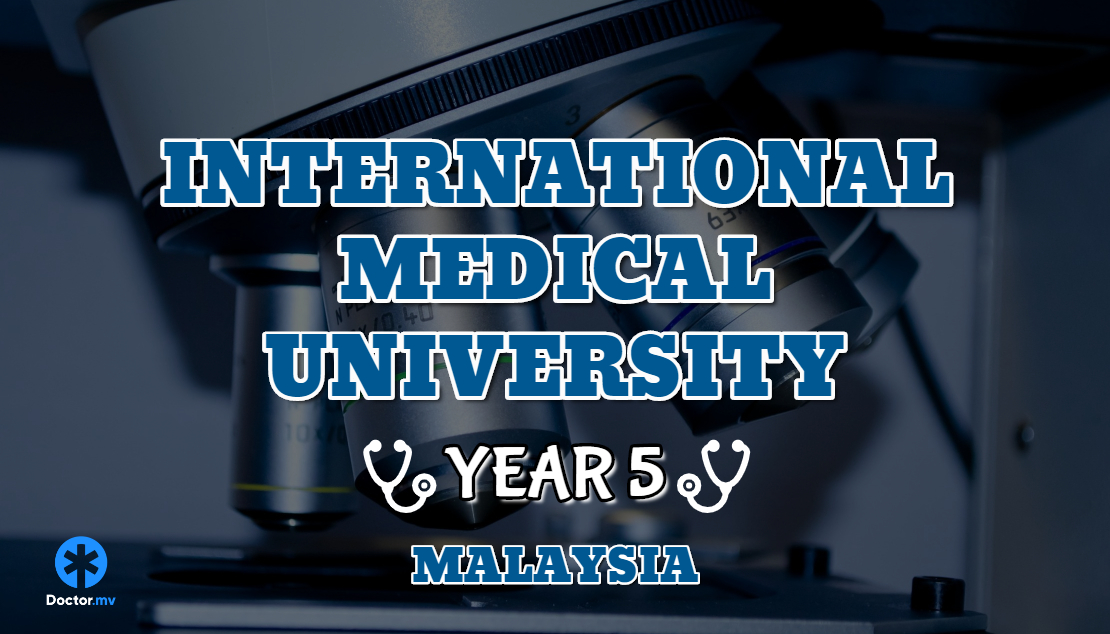 Nabeel Ibrahim
Published on: 26/11/2019
Malaysia
International Medical University
Fifth Year
Shinah Saeed
Advertisement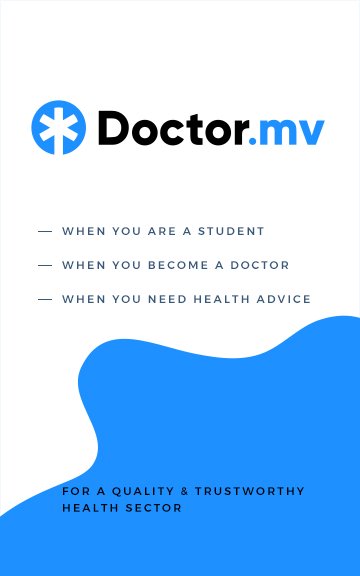 University
International Medical University
Current Year
Fifth
Medical Specialty Interested in
Emergency Medicine, ever since I worked in the Emergency Department of IGMH as a clinical assistant before I joined med school. It's fast-paced, adrenaline-fuelled life style that has a certain appeal for me.
One Word that Describes You
Friendly
Most Intriguing subject in Medical School
In pre-clinical years, I really loved Pathophysiology. In clinical years, I am very drawn to Paediatrics; because it is medicine, but for little people! That's fascinating for me!
What was your path to Medical School like?
My path to medical school was both torturous and traumatising. I remember the day I told my Dad that I wanted to do Medicine. I was 13. He told me, "you know I can't afford it, so try your best to get the president's scholarship!" And that's what I did! I got National Top Ten 1st place in A'levels and received the President's Scholarship; to study anything I want, anywhere in the world! Easy peasy, right? No!
Right after I graduated from High School in mid-2011, my school offered me the opportunity to be a temporary Chemistry teacher there for a semester. So I was balancing being a teacher and giving tuition to students at home while searching and applying for universities. I applied to a lot of universities in Australia because that was where I wanted to go. I received placement from The University of Newcastle (UoN), Australia for their February 2013 intake, so I had another temporary job at the GN Atoll Council, after my one semester of being a teacher.
Everything was going smoothly. I had received the letter of Enrollment for MBBS from University of Newcastle and I was on my way to achieving my dream. It was not until I reached Australia and went for registration that I found out that there was a hiccup in the plans. It was not mentioned anywhere and hence neither I, nor the Scholarship Division at Department of Higher Education (DHE) of Maldives, who was my sponsor, saw it coming. UoN sent me another letter of enrollment, this time for the Foundation program, which was also starting at the same date as my MBBS course.
So I asked during registration, why this was so, since I clearly had all As in my A'levels, met their criteria for MBBS and therefore did not need a Foundation Program. They told me that for any student who did not apply through an agent, the only path to MBBS was through the Foundation program, regardless of the results. This was a huge blow for me, because it was never mentioned anywhere and I thought I was going for MBBS, but they are rerouting me through a Foundation program that I clearly did not need. I later found out that there were students who scored worse than me (had Bs in some subjects), who got direct admission to MBBS because they applied through an agent. However, there were no agents in Maldives and so there was no way I could have done that even if I wanted to.
The foundation program also came with a catch; we had to fulfill 2 criteria to pass through to MBBS program at the end of the 1 year Foundation program.
1) Score above 90% in the exams
2) Pass an interview at the end of the year
This was very doable, and with the guidance of DHE, I managed to complete my Foundation Program with 93%. And anyone who knows me would know that I have no problems in speaking. I can speak your ears off easily. Therefore, it came as such a shock when I found out that I did not make it through the interview, when people who had more trouble conversing in proper English made it through. Even 17-year old International students in my class made it through, yet, I did not, and to this day, I do not know why.
The road to Medicine from there on was a struggle every single day. I went back to Maldives and started working in ADK as a Clinical Assistant, to gain experience. It was a great experience and I learned a lot, but I was acutely aware of how much time I was losing, "waiting". I was waiting for the deadline to the UK applications, because that was where I wanted to go. In the meantime, I was pulling 12-hour shifts some days at ADK, because there was a specific foreign doctor who would not accept any other clinical assistant with him and he insisted on staying late every single day. Even when I called in sick, my bosses would call and request me to come in, because this specific doctor sent away 3 other clinical assistants crying, because they weren't "competent" enough for me. Therefore, it was a very stressful job for me.
I resigned from ADK and joined IGMH as a clinical Assistant, in their Emergency Department, where surprisingly, I loved every minute of it and did not mind having to stay beyond my duty times (although, I did not have to, I volunteered to help around, because isn't that fun?). I did not get into any UK universities and so I decided to try another university.
My sponsor, DHE, asked me to find another placement from a university and that they would still sponsor me because the previous fiasco with UoN was an unforeseen circumstance. I heard from my juniors that they were applying to IMU, because IMU had a twin-program called PMS (No, it's not what you think! This PMS stands for; Partner Medical School) where the first 2.5 years of theory phase will be in the Malaysia KL campus, but after that we can either choose the local program (continue in Malaysia) or go for PMS program (to UK, US, Canada or Australia) to continue the clinical phase. I was very excited! This is what I was waiting for!
I rushed to the Scholarship Division and met up with my point of contact until that point, Ms Zaufishana. In a face-to-face meeting, I explained to her about the PMS Program of IMU and that I was planning to apply for it. She told me I would be fully sponsored and to go ahead with it! I applied, passed the interview with flying colours and almost immediately received an offer for the PMS Program. However, they needed my sponsor's letter stating that I am sponsored, along with my registration, so I emailed DHE for the letter.
In the end, all my waiting came to a fruitful end, right? Turns out, it wasn't meant to be that easy. I was meant for more heart break as Ms Zaufishana's boss contacted me and told me that they could not sponsor me anymore since I had already completed a program in Australia.
Yes, I lost my scholarship, just like that! In the blink of an eye, all my dreams vanished. The future that I had secured through sweat and tears was no more. After a lot of appealing and even letters to the President, I explained to them how the terms of my scholarship clearly state that my scholarship would let me complete a Bachelor's degree, and since the course I completed in Australia was a Foundation program, and since I had received multiple emails confirming that I will still have my scholarship should I want to apply to another university to continue my studies, how unfair it was to just have it taken away just like that.
Finally, after almost a month of uncertainty about my future and what I was supposed to do after that (by which time, the deadline for IMU PMS Program had passed, so there goes that dream), it was decided that I would get my scholarship back, however, with limitations that I can only study the local program, not the PMS program. I met up with the head of DHE back then, and explained to him how Ms Zaufishana, my point of contact, guaranteed in a face-to-face meeting in DHE itself, how I could apply for the PMS program. He told me that she could not make such promises to me (how was I supposed to know that? She was my point of contact) and since it wasn't in writing, there was no proof anyway (so a face-to-face meeting in the DHE itself does not count? How paranoid do they want me to be?) And also, that DHE decided they would not be sending any more students to any twin programs here after (That shouldn't apply to me, because they made that rule AFTER I applied and received placement), but they were adamant. They told me to be grateful that I atleast had a scholarship (I was, very grateful, but this was years of my hard work! I earned the right to study anywhere I wanted!).
I was forced to go through the local program, but by then, the program had already started 2 weeks ago! IMU was so kind though, they asked me on Thursday, that if I could fly in before Monday, that I can still register and continue for February 2015 intake, because otherwise, I'd have to wait for August 2015 intake. I moved my entire life to Malaysia within 2 days and Al'hamdhulillah, it has been the best decision I ever made!
I keep thanking my lucky stars that I was forced through the local program, because IMU Clinical School Seremban has been the best thing that ever happened to me! I found family in my Maldivian friends, I found parents in my mentors and I found solace in my kind and willing patients. Of course I had to learn the language, but it just means I have an extra language under my belt. It is a Muslim country with such diversity and my experience here for the past 5 years has been nothing short of amazing!
What was the biggest difference between your expectations of entering Med School when you were doing A'level, and the actual experience of being there?
I had always heard how hard it would be, so I was mentally prepared for that. Initially, it was not very hard. IMU made things very simple. They fed us the information in bite-sized pieces so it was alright. Things got really tough when we started Clinical School in the middle of year 2. We realised that in theory phase, we were spoilt and pampered. Clinical School Seremban made us grow up; made professionals out of us who were punctual, respectful, empathic and compassionate!
To anyone who is planning on pursuing Medicine, I would advise not to do it unless the hospital is your happy place. Do not do it unless Medicine truly is your biggest passion and you can't imagine doing anything else with your life. Because the truth is, it's not as glorious as it looks. It's laborious! It's 16-hour shifts in the hospital, basically living and eating in the hospital, life-long learning and assessments. It's a lot of hard work and commitment, it is what you are married to, it is your home. And if you are not ready to make that happen, if you keep dreaming of something else you'd rather be doing, you will be miserable for 5 or 6 entire years! You could earn a Bachelor's AND a Masters in that time, so don't waste your time, energy, youth, sweat, tears and even sometimes blood, on something that does not mean as much to you as your family does! It would not be worth it for you!
That being said, if the hospital IS your happy place, then the first phase of med school is still going to be a lot of studying and very little of clinicals, if at all (depending on where you go! I was lucky to be exposed to clinical skills from semester 1 itself, at IMU), but once you get to clinical phase, you will be happy. Despite the long hours, you'd feel like this is where you belong, this is what you are happiest doing!
So basically, make sure you work in a hospital before you apply for Med school, to find out if it really feels like it could be your home for the rest of your life. Because Medicine is a life-long commitment.
How is your daily routine like?
For the first 2.5 years my schedule was very relaxed. For the next 2 years, it was a bit more difficult. Now I am in my final semester and since I have already finished all my theory and OSCE (clinical examinations), this semester is considered as Housemen (interns) Preparatory Course by our university, which means, we are treated like interns, we are taught skills that interns would need.
We have 4 postings; Paediatrics, Medicine, O&G and Surgery in these 6 months. I have already finished the 1st two and they were a bit more easy. However, I am currently in O&G and it is a lot of long hours!
I have to be in the ward before the sun rises (before 7am), to go and cover the ward by talking to all the patients and performing physical examination on all the patients in the ward, because our lecturer will come to the ward and do rounds with us in the morning. Depending on how long the rounds take (they can take all morning or sometimes they are quick), we will also have time to go to the clinic. After a 1-hour lunch break, our afternoon sessions start. It will be either case discussions by the Ministry of Health consultants or our lecturer. These sessions also vary in length. If we are lucky, we'll finish by 4pm and we can rest for a bit before our on-call starts. We are on-call from 5pm till 12am (I usually do till 10pm since I don't drive and it's almost impossible to get a taxi to go home if we stay past 10:30pm). During our on-call, we would stay in the wards, either the Obstetrics or Gynae or labour ward and assist in procedures or deliveries.
We also have a 15-hour weekend shift, which I thoroughly enjoyed! I managed to deliver 3 babies all on my own during that shift!
Since even during the weekends, we are on-call in the evening, we do not get much time to stay at home. However, with whatever precious time we do get (mostly after on-call at night), we have to work on our portfolio cases. We have 10 cases with 4 learning outcomes each. We need to work on them, collect ALL the information about our patients, write it all down, make assessments on them and then write different learning outcomes for different cases. Each patient report can be anything from 20 to 50 pages long, so it takes a lot of research and writing!
They need to be as perfect as we can get them since we will have VIVAs on them in February (at the end of the semester).
Discuss your decision to pursue Medicine. When did you decide to become a physician and why?
My decision to do Medicine, as I mentioned before, was when I was 13. My mom is a nurse and she used to take me to the hospital with her when I was young, so I was always fascinated by the hospital. However, it wasn't until my time working in IGMH as a clinical assistant that I realised that the hospital was where I was happiest at. I literally could not imagine doing anything else!
Which qualities do you look for in a Doctor?
I think a doctor should be professional, compassionate and empathetic.
One of the most important things for a doctor is to be able to put ourselves in our patient's shoes and try and imagine their suffering! This will help us be more kind and tolerant towards any of their irritable behaviour. It will also make us more compassionate and allow us to be better healers. Because, as my lecturers say, "Medicine is not about treating a disease. It is about healing people" and the difference between healing and treating illnesses is, healers focus on the overall well-being of the patient, not just on the disease the patient has.
The patients trust their lives with us, so the least we can do is treat them well, with the respect they deserve and be professional enough to live up to their expectations!
Name your favorite medical text book.
In all honesty, I do not read a lot of text books. I mostly read UptoDate or Medscape or watch educational videos since I am a visual learner. The one text book that I do love is Macleod's Clinical Examinations!
Where do you see yourself 10 years from now in the Medical field?
I hope to be making a difference in the community, making people aware about the common illnesses. I also hope to be an Emergency Physician!
What is the most effective way to study in Medical School?
It honestly depends on the student. You have to find out what works best for you and stick with it.
For me, I am a visual learner so watching videos on all the subjects helped me more than reading books ever could. Once I was in clinical school, it was the patients that taught me the most. Once you see a patient with a certain disease, if you get the full history and perform physical examination to get symptoms and signs that would support your diagnosis while ruling out the other causes of the presenting complaint, getting information about this patient's risk factors for the possible diagnosis and trying to assess the severity of the disease, would really get your mind working. Then, when you go back and read on that possible diagnosis and the differentials, you are more likely to remember it if you see if the next time.
Also, Medicine includes everything under the sun and it is impossible to cover everything for an exam. So you have to be smart. Focus on the common conditions first, before you go and cry in frustration about not being able to remember the very rare ones. Because in Clinicals, if you hear a hoof beat, you will need to think of horses first before you think about zebras.
Do you need High grades to become a decent doctor?
Not really! Obviously, you will need good grades to ensure you know what you are doing and that you are a safe doctor, but beyond that, being a good doctor is about your character, about how you deal with your patients and colleagues, about how you work for your community.
Finally, what is the one tip/advice you want to give to our readers?
DO NOT DO MEDICINE unless it is the love of your life!
Related Articles
Recent Articles